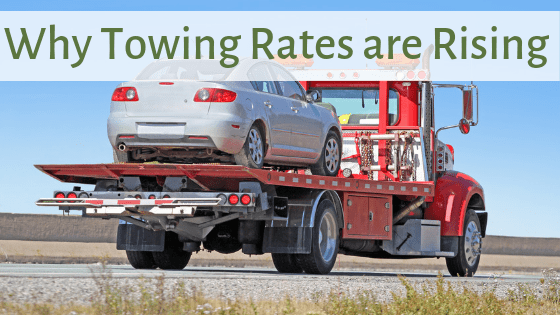 As the owner of a towing company, you have likely noticed your company's insurance rates increasing over the past few years. I'm sure insurance has never been your favorite part of the business, but the rising costs add additional headaches to running your company.
So why are your rates going up? What is going on with your insurers or the industry that is causing this?
We understand your pains, and what your company may be feeling. In order to give you a better understanding of what you can do, we wanted to break down the reasons why tow truck insurance costs are rising, and what you can do about it.

Why are your tow truck insurance rates going up?
As you've watched your rates go up, it is not because insurance companies hate you. Most towing companies are facing this same issue.
There are 3 main causes of the increasing tow truck rates:
General Trends in Commercial Auto Insurance
Towing Insurance Related Trends
And Your Own Company's Experience
Some major influences of your insurance rates are actually out of your control and has everything to do with what is going on in the insurance industry. Let's take a look at these two issues in more detail.
General Trends in Commercial Insurance
For starters, commercial auto insurers are paying more in claims than they are collecting in premium. In a nutshell, insurers are losing money insuring Auto. As a result, we are seeing rates increase for all commercial vehicles; big rigs, construction trucks, delivery vehicles, and tow trucks. This is happening for a number of reasons:
Distracted driving is increasing the number of accidents
Costs to repair vehicles loaded with more technology is increasing
People are driving more miles
These reasons are driving auto claims costs to outpace the auto premiums charged. To keep up with the increased costs, insurance companies have to increase rates/premium or else they will lose more money from claims they have to pay. To date, they have been unable to keep pace.
Towing related trends
Commercial auto insurance is feeling the pain across the board, but there are additional factors that impact tow truck insurance.
Specifically, insurance carriers view towing as very risky business to insure. Since most commercial auto insurers are losing money, they try to avoid insuring businesses they view as risky. As a result, most insurers will not insure towing companies, and recently a number of insurers have exited the tow truck market.
Those that remain can cherry pick the best operations or name their price for the others.
Understanding Your Own Company's Insurance Costs
While you have little control over these trends, it also helps to understand what drives your insurance costs. When an insurance company provides a rate for you, it is based on a number of factors.
However, there are 4 factors that make up much of your costs:
Cost to replace your vehicles. Totaling a new $500,000 class 8 tow truck is obviously a bigger financial hit than an older $50,000 Class 4 truck. So if you have more invested in your trucks, your insurance costs will be higher.
Driver Records. The better your driver's records the better your rate. This is very similar to any other type of auto insurance. Bad drivers = high premiums. Better drivers = lower premiums.
CAB / SAFER Rating. If you have anything other than Green (CAB) or Satisfactory (SAFER) rating, you will more than likely be paying increased rates.
Claims History. How often have you filed claims and how large are those claims? Both items will greatly impact your insurance rates.
When requesting a quote from an insurance company, they review these four factors in addition to a few others to determine your rate. The more favorable the factors look, the more favorable your rate is.
Now, there's not much you can do about the costs to repair or replace your vehicles. Needing the trucks you need is just part of doing business. However if you have found your insurance rates skyrocketing over the past few years, then take a close look at these four factors. They could be the reason why your insurance rates have increased so quickly.
Best ways to manage your tow truck company's insurance costs
Towing insurance rates on average are going up. That's a fact. Your company however, can fight back against these costs by being proactive in a number of areas.
> Hire and Keep good drivers
This is a challenge with which all towing companies struggle. However, it is key to business growth as well as lowered insurance rates. When hiring drivers, they must have a thorough understanding of the job, and they must also have a good driving record.
Hiring young drivers sometimes seems like the best option, but young or inexperienced drivers can easily drive your costs up.
Once you have hired good drivers, you have to do your best to keep them. That means providing excellent working conditions and providing good wages so that your drivers want to stay.
> Focus on Safety
Another key aspect of getting the best insurance rates is creating a safety focused work environment. This will encourage safe working habits and result in less claims. These efforts will be rewarded with better premiums.
Just a few of the ways to maintain a safer company:
Safety Training
Reward safe practices
Create a written safety policy that the drivers know and understand
A company with a safety focus will have less claims which will result in lower insurance premiums.
> Get strategic with your insurance
As you have likely experienced, even the safest of drivers and employees will occasionally have an accident. Bad weather, narrow roads, a simple mistake, and other distracted drivers can lead to a potential claim. However, what you do after the accident matters!
Instead of filing a claim every time a small accident occurs, why not pay out of pocket for these smaller accidents? A huge cost variable from company to company is their claims history.
So, try to be strategic with what submit to the insurer for payment. This way, you are not driving up your costs for something your company can handle itself.
> Find an agent who understands the industry and who offers a preferred tow insurance program
One very misunderstood aspect of insurance is that insurance solutions are the same regardless of agent or company. Many believe that the only thing that changes from agent to agent is the price of the policy. This is a grave misunderstanding and can be a reason for frustrations and higher costs.
Nearly any agent can provide an insurance quote or policy to towing companies. However, that doesn't mean they have the knowledge or experience to provide the best price, coverage, or assistance. Just as nearly anyone can get a CDL that doesn't mean you want them to drive for your company.
An agent who specializes in tow trucks will have the knowledge and experience to provide you with the right plan, but also will have access to preferred markets which provide top tier insurance rates at the optimal coverage.
In addition to insuring your company with preferred rates, a specialist will be able to provide value added services for your company such as safety training for your staff, safety policies and procedures for your company, claims support in the event of a claim, and other services which go above and beyond just placing your insurance.
What to do for your Towing Insurance Rates Today
We discussed a lot of information today which may seem a little overwhelming at first. But the goal is to actively build these into your everyday culture of your towing company. We understand that every towing company is in a different position. You may already be actively engaged with some of these cost saving strategies, or this may be your first time hearing about them.
Regardless of where you are today, we want to provide you with some next steps to lowering your rates.
Begin implementing all of the cost saving tactics you can today, and plan out what you can implement in the future.
Speak with an agent who specializes in towing insurance.
Follow our blog
Because of the nature of your business and industry trends affecting your industry, this will be an on-going battle.
However, you do not have to simply accept consistently rising costs. Use the information provided to manage your costs and prevent skyrocketing insurance costs.
If you have any questions feel free to contact us or leave a comment below. We can help you understand how to put this advice into action.