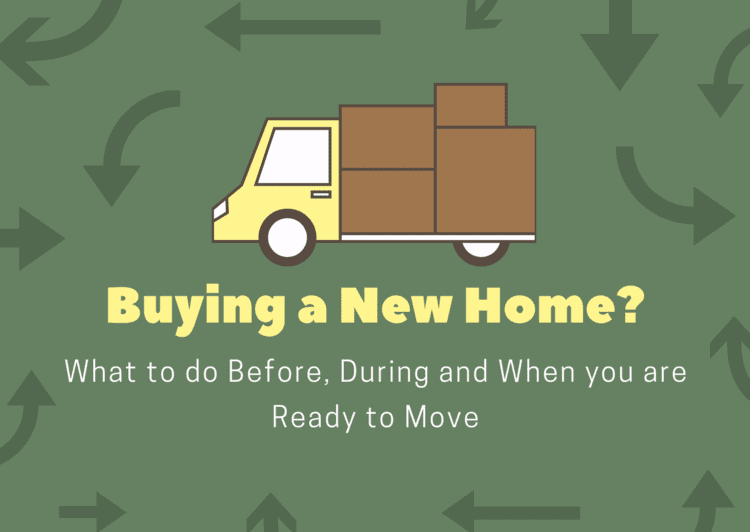 There is a special excitement (and a little nervousness) that comes from moving. Buying a new home should be a wonderful thing. An overall fresh start! However, you may have some concerns.
Is it the right timing? Will my finances be enough to buy my dream home? Will I get ripped off by the professionals I work with? Will my new house become a money pit?
Ultimately you want to know if you are making the right decision and if everything will be OK. We are here to help you ensure that everything will, in fact, be OK.
In this post, we are going to provide you with 16 tips to help you get the best experience starting before you begin house hunting up until you buy your new home.
Before you start house hunting
You are thinking of selling your home and moving, or maybe you've already decided to sell and now it is time to start house hunting. Before you do, there are a couple of important steps to take.
1. Make yourself a financially desirable buyer.
2. Order and review your credit rating
Stable credit history makes it easier to get a competitive interest rate on your mortgage, and it will qualify you for a discount on your insurance. Obtain a copy of your credit reports. Make sure your information is accurate and report any mistakes. If your credit needs improvement, take steps to fix it.
3. If you are renting, acquire renter's insurance
In the unfortunate event of a fire, tornado, or other natural disasters, renter's insurance can help protect the assets you are building to purchase your new home. The policy will also provide a useful history to your prospective homeowners' insurer when you go to buy your first home.
There's nothing wrong with looking at homes online or daydreaming about buying the perfect home. But before you get serious about house hunting make sure that you've taken the necessary steps for the best experience.
While looking for your new home
As you look for your dream home, it is essential to remember that the size, location, construction, and overall condition of the house will impact the cost and availability of property insurance. In some cases, desirable features—like crown molding, ornate tile work, or proximity to the coastline—can make insuring a home costly or more difficult to insure. For insurance purposes, other factors to consider when shopping for a home are:
4. Quality and location of the fire department
Insurance for homes located in a community with a highly rated, permanently staffed fire departments will cost less. This is also true for the proximity to the fire department and a fire hydrant.
5. Proximity to a coastline
Houses located near the coast will generally cost more to insure than those further inland. A separate hurricane or windstorm deductible is also typical. Private homeowners' insurance coverage may not be easily accessible in some coastal communities. Instead, you may have to purchase insurance through a state-run insurance program.
6. Age of the prospective home
A stately home can be quite beautiful. However, ornate features like unique tile work, crown molding, and plaster walls can be expensive to replace. These may increase the cost of insurance. The plumbing and electrical systems may become unsafe with a lack of maintenance and age. If you are thinking about buying an older home, it's in your best interest to find out the cost to update these features and factor that into your decision.
7. Age of the roof
A new roof matters to insurance companies. Often if a roof is older than 15 years, an insurer may only offer reduced coverage values. If 15 years or newer, most insurers will pay to replace the entire roof in the event of a claim.
8. Condition and type of the roof
Make sure you have someone check the condition of the roof. Damage is difficult to see from the ground. Also, if the roof is made with fire or hail resistant materials, you may qualify for a discount on your home insurance.
9. Quality of construction
Find out if the house has been updated to comply with current building codes. Well built homes constructed to meet modern engineering-based building codes are more likely to withstand natural disasters.
10. Risk of flooding
Standard home insurance policies do NOT cover property damage from a flood. If you are buying a home near a body of water or in a low lying area, it may be at risk from flooding. You can check if it is in a flood zone here,
https://msc.fema.gov/portal/search
or you can contact your agent. Flood coverage should not be confused with sewer back up. Flood is defined as water coming over the ground into your structure. If the home happens to be in flood zone, you may need to purchase separate flood insurance, which is available from the National Flood Insurance Program (NFIP) or a few specialty insurers.
11. History of earthquakes
While most people associate earthquakes with California, they occur in the majority of states.
🔎 Read: Cleveland area rattled by earthquake
Property damage from an earthquake is not covered under the standard home insurance policies. Earthquake coverage is available in most states as an endorsement to your homeowners' policy.
12. Swimming pool or other special feature
If the house you desire has a swimming pool, hot tub, or other special features, you may need more liability insurance. You may also consider purchasing an umbrella liability policy
Before you make an offer on a home
To ensure your new home doesn't become a money pit, understand your potential home's history, current condition, potential issues, and costs.
13. Check the loss history report
Obtain a copy of the Comprehensive Loss Underwriting Exchange (C.L.U.E.) report or a loss history on the home. A homeowner can obtain either from LexisNexis or a property loss history report from ISO®. These reports provide a history of the type of insurance claims filed for the home and can provide valuable information. Knowledge of incidents will provide insight into prior insurance claims and any resulting repairs (i.e., a new roof).
14. Get the house inspected
Your mortgage company will require the property to be inspected by a credentialed home inspector to approve your mortgage. Join the inspector on the inspection to make sure he or she is thorough and makes sure to:
· Check the overall condition of the home
· Look for damage, termites and other types of infestation
· Review the keys systems of the home: electric, plumbing, septic tank, and the water heater
· Advise where potential problems might develop
· Identify and double-check on past problems or repairs
· Recommend key upgrades or replacements
If the inspector raises questions or concerns, it's likely that your insurance company may as well.
15. Understand the Home's maintenance costs.
As a homeowner, routine maintenance is your responsibility. It's important to factor these costs into the overall price of owning the home. Failing to care properly for your home can result in financial losses that are not covered by an insurance policy.
16. Involve your insurance professional, early.
Waiting until the last minute to worry about homeowners' insurance can impede the mortgage closing process. The sooner you speak with an insurance professional, the smoother the process will be. If you're uncomfortable with the cost of insuring a particular house, look for one that better fits your financial situation.