Wichert Insurance's risk management process is a unique approach to traditional insurance procurement. Our process is designed to uncover risk exposures from your day-to-day business operations.
We work with you and your team to understand your business and help you identify, measure, insure, and control your risks. Our comprehensive risk management process helps identify factors and solutions to manage risk beyond insurance coverage alone.
Wichert's strategic process creates risk solutions tailored to your individual needs. We work with clients with full-time risk managers, and we act as outsourced risk managers for many others.
Some insurance providers sell insurance on price alone, turning an important risk management process into a commodity. At Wichert Insurance, we stand apart by immersing ourselves in your business to:
Gain insight into your organization
Identify and understand your actual risks
Identify and understand your risk control methods
Assess your appetite for risk
We use the information gained during the process to deliver risk advice and servces tailored to your business that you can rely on.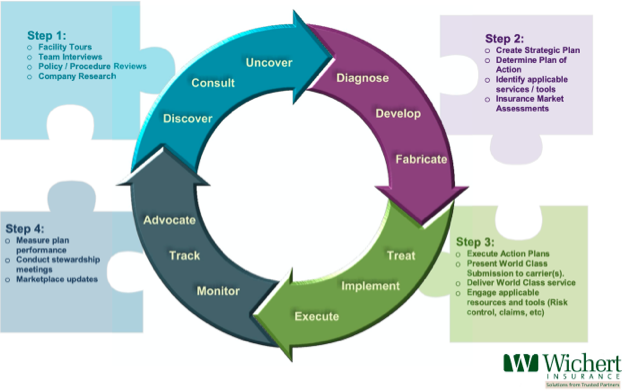 Our Risk Management Process
Step 1 – Discovery
We immerse ourselves in your business. This allows Wichert to identify your risks, controls, areas of strength, and areas in need of assistance.
Step 2 – Diagnose and Develop
With the information developed from Discovery, we diagnose any areas of concern and develop a plan. This includes identifying the risk management services to engage risk financing/risk transfer techniques that will work best for your business.
Step 3 – Execute
Once we have developed your profile and a plan to manage your risk, we expertly execute our risk management strategy and related plans.
Step 4 – Monitor and Advocate.
We continuously monitor and evaluate your risk management profile and program. When claims happen, our team advocates for timely and fair outcomes. We are truly your partner in risk management.